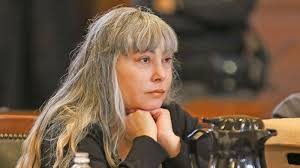 In March 2007, the body of Air Force Reserve Major Karl Hoerig was found in his home in Ohio, with two gunshot wounds in his back, and another in his head.  His wife of two years, Claudia Hoerig, had fled to Brazil. For various reasons, she wasn't extradited until January 2018, at which point she confessed to the murder, but said it was an act of self-defense, and the marriage had been abusive. She said she got a gun to kill herself, and Karl told her to do it in the basement so she wouldn't make a mess. At that point, said Claudia, she decided to shoot him instead.
During a discussion of the Hoerigs' relationship prior to Karl's death, Claudia Hoerig's attorney directed the conversation to the couple's sexual habits. Ms. Hoerig claims that her husband "was not able to perform without Viagra or without bondage, or without something weird or me pretending to be dead." She says that it wasn't until after they were married that Karl revealed his fetishes.
Claudia Hoerig was found guilty of murder and sentenced to life in prison.