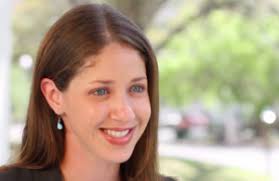 This episode contains three hours of the eight hours with attorney Wendi Adelson spent with Tallahassee police immediately after the death of her husband, FSU law professor Dan Markel (see episode 113). After being informed of her husband's death, Wendi spoke with law enforcement officers for almost eight hours (without asking for counsel). The police have not charged her with anything, but she admits that she feels as if she's being treated as a suspect.
As noted in episode 113, Sigfredo Garcia, whose girlfriend dated Wendi's sister Charlie Adelson, has since been convicted of Dan Markel's murder, which, according to the prosecution, Markel's murder resulted from the "desperate desire" of the Adelson family to relocate Wendi Adelson and her two sons from Tallahassee, where Markel lived, to South Florida, where the Adelsons live.
Over the course of questioning, Ms. Adelson appears shocked, distressed, heartbroken, and confused. At times, she is also chatty and relaxed.
Listen to the episode here.