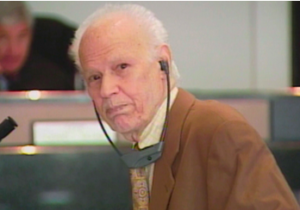 This episode contains the testimony of Marc Benayer, 81, who represented himself at his 2007 murder trial in Boca Raton, Florida. After Benayer's girlfriend Marta Pinto, 44, had broken up with him, he allegedly began stalking and harassing her, claiming she owed him $10,000. Marta, who spoke very little English, worked at an electronics company, and she turned to her bosses, Mark Levy and Jonathan Samuels, for help in getting a restraining order against her elderly suitor.
In 2005, after the Rosh Hashanah service at the Chabad Weltman Synagogue in Boca Raton, Benayer shot Jonathan Samuels, 43, twice in the back. He died nine months later. Mr. Benayer claimed the shooting was an accident, and that Samuels' death was due to a heart attack. At his trial, the eccentric and irascible Benayer fired his attorney and decided to represent himself. Unsurprisingly, the jury found him guilty. Later, while behind bars, Benayer tried to hire a hitman to kill his former defense attorney along with Mark Levy, a prosecution witness. In reality, the hitman was an undercover Palm Beach County Sheriff's deputy.
While Benayer had been diagnosed with dementia, a personality disorder and the early onset of Alzheimer's, psychiatrists examined him before the trial and declared him competent to represent himself. Others may disagree. Benayer died in prison in August 2015, aged 89.
This episode contains Mr. Benayer's excruciating cross-examination of his ex- girlfriend Marta's daughter Henriette, 18, and Marta's new boyfriend, Martin Fried.