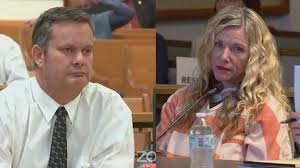 It's difficult to keep things straight in this complex and ongoing case, but here's the short story. Lori and Charles Vallow were members of the LDS church who lived in Arizona with their five children from Lori's four previous marriages. In 2015, Lori became obsessed with a series of apocalyptic books by Chad Daybell, an LDS renegade who documented his unconventional spiritual beliefs through pamphlets and podcasts. In 2018, she attended one of Daybell's seminars, and was immediately drawn into the cult. Daybell said he'd lived 31 different lives on various earth-like planets, and believed in zombies and demon possession. According to those present, Chad referred to the photogenic Lori as an "eternal being" of 21 separate lives, only five of which had occurred on this planet. The couple then vanished for 58 days.
In July 2019, Lori's husband Charles was shot and killed by her brother Alex, who claimed self-defense. In October 2019, Chad's wife Tammy was found dead in the couple's home. Two weeks later, Chad and Lori eloped to Hawaii and got married. Shortly thereafter, the police were called to Lori's home in Arizona to check on two of her children, Tylee, 16, and J.J., 7, who hadn't been seen for some time. The children's  belongings were located in a storage locker, and documents were found that showed Chad and Lori had become convinced that Tylee and J.J. were "possessed," and had become "zombies." Eventually, their remains were found at Chad's home, buried in a purported pet cemetery.
On May 25, 2021, Lori and Chad were charged with the first degree murders of Tylee, J.J., and Tammy.
The recording is a police tip from an anonymous caller, who was briefly married to Lori's brother Alex Cox. She describes how Alex and his sister Lori were sexually demonstrative towards each other, how Alex was highly jealous of Lori's boyfriends, and how their parents talked constantly about their sex lives.