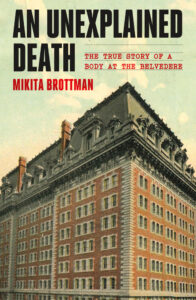 Shortlisted for the 2018 ACLS Crime Writers' Association Gold Dagger Award for Non-Fiction.
"This is a learned, lucid, and finally heartbreaking account of urban obsession. It's David Fincher's film Zodiac crossed with accounts of Judge Crater's disappearance crossed with Ms. Brottman's wild take on the unknowability of life and the necessity of staying obsessed. Ms. Brottman is a groove — and so is her book."
–James Ellroy, author, L.A. Confidential, The Black Dahlia.
"Mesmerizing… alluring… a page-turning look at the darker impulses of the human psyche." — Publisher's Weekly (starred review). Read the full review here.
"An Unexplained Death begins as a factual mystery, then opens up into something far greater: the fundamental mysteries that concern us all. Mikita Brottman is a gripping writer and an intrepid explorer, a brave chronicler of her obsessions, and ours."
— Zachary Lazar, author, Vengeance.
"At once a meditation on suicide and the ways people die as well as a solid piece of investigative reporting,  An Unexplained Death crosses many lines and takes big risks.  Admirable.  Compelling.  Unusual."
–Beverly Lowry, author, Who Killed These Girls? Cold Case: The Yogurt Shop Murders.
"Mesmerizing. A haunting meditation on the opacity of facts – how the who, what, when, and where always fail to plumb the abyss: the why. Brottman's inquiry into the death of Rey Rivera turns into an 11-year hunt for revelation along the knife-edge of pathology."
—Claudia Rowe, author, The Spider and the Fly: A Writer, A Murderer, and a Story of Obsession.
"Brottman's An Unexplained Death is not just a thrilling whodunit, with new clues unfolding every chapter, it's a beautifully written elegy about the mystery of death. By the end of the book, you'll be just as fascinated by Brottman as you will be by her main character: the handsome and devoted Ray Rivera, who suddenly goes missing early on an Baltimore evening in spring. This is one riveting, heartbreaking read."
–Skip Hollandsworth, author, The Midnight Assassin: Panic, Scandal, and the Hunt for America's First Serial Killer.
"Set in a Gothic hotel worthy of Poe, this mesmerising book looks into all the dank corners of an obsession with a true crime case. Hypnotic, brutally honest and unputdownable."
-Denise Mina, author, The Long Drop.
"Gripping, immersive, and beautifully written, with an unsettling juxtaposition of criminality and mundanity. Brottman blends tragic and gruesome details with an intelligent and refined touch."
–Henry Bond, photographer, author, Lacan at the Scene.
"There is a beautiful circuit between Brottman's sense that people are constantly casually forgetting her, and her compulsion to devote a book to a person who is in a state of being forgotten."
— Alissa Bennett, curator and author, "Dead is Better."
An obsessive investigation into a mysterious death at the Belvedere—a once-grand hotel—and a poignant, gripping meditation on suicide and voyeurism.
"The poster is new. I notice it right away, taped to a utility pole. Beneath the word Missing, printed in a bold, high-impact font, are two sepia-toned photographs of a man dressed in a bow tie and tux."
Most people would keep walking. Maybe they'd pay a bit closer attention to the local news that evening. Mikita Brottman spent ten years sifting through the details of the missing man's life and disappearance, and his purported suicide by jumping from the roof of her own apartment building, the Belvedere.
As Brottman delves into the murky circumstances surrounding Rey Rivera's death—which begins to look more and more like a murder—she contemplates the nature of and motives behind suicide, and uncovers a haunting pattern of guests at the Belvedere, when it was still a historic hotel, taking their own lives on the premises. Finally, she fearlessly takes us to the edge of her own morbid curiosity and asks us to consider our own darker impulses and obsessions.
"Idiosyncratic…poignant…When Brottman writes, she's a virtuoso: poised and sure-footed, confident and graceful, witty and relaxed." —Baltimore Sun 
"This is an odd, slightly creepy book. When a man called Rey Rivera is found dead on the roof of the Baltimore apartment complex where Mikita Brottman lives, she conducts a 10-year investigation into what happened. Her fascination with crime sends the narrative spinning off on tangents about other related murders and suicides as she reflects on Rivera's fate." The Age, Australia.
"Brottman is candid and honest, sharing her reactions alongside evidence she recovers, personal experiences with research she conducts. … Intriguing, mysterious and tragic, this beautiful tribute to the secrets of death from a true "connoisseur" of the subject is macabre poetry that sings."–-Jen Forbus, Shelf Awareness, June 20, 2016.

"Woven into Rivera's story is the author's own: her striking sense of being invisible to other people and her fascination with death (she catalogs historical suicides at the Belvedere). She writes of a police description of another suicide, "I felt I had found exactly what I am looking for—a crack in the surface of things that shows me the world is not the place I have assumed it to be….I am not a gawker: I am a connoisseur." Mixing fascinating investigation and macabre memoir, this is a dark ride with substance."
— Kirkus Reviews.
"In this page-turner, a mash-up of memoir and true crime, Brottman explores a mysterious death and her own psyche."
— Booklist.
"… more than just a true crime narrative …"  NPR
"… this crime book is something wholly unique … " Paste
"a compulsive exploration of the shadowy borders of our collective fascination with unsolved crimes"  Bookpage
"…a glimpse into the well of obsession…" New York Journal of Books
"Brottman writes fearlessly about the nature of her own—and our—interest in morbid affairs"  CrimeReads
"For fans of James Renner's TRUE CRIME ADDICT and Walter Kirn's BLOOD WILL OUT." — Library Journal
"The book develops into a meditation on life's mysteries more generally, 'the subtle shades and nuances of that which makes the flesh crawl'. —The Spectator
"When not sleuthing, she is taking in the dark sights of Baltimore, a city which feels more like New Orleans in its spooky and exotic dereliction" Strong Words Magazine.
"Brottman's searing honesty and insight, and her smooth, sinewy prose, turn this into a rather profound meditation on life and death, and our attitudes to both. Highly recommended." The Big Issue