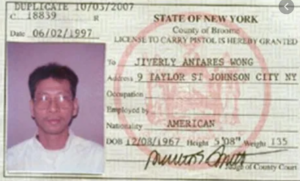 (1) In November, 2009, Jiverly Wong, 41, walked into the American Civic Association, where he had recently taken an English class with other immigrants, and shot 13 former classmates and association employees and wounded four others, firing 98 shots from two handguns in about a minute, before taking his own life. Wong was apparently angry after being laid off from his job at a vacuum cleaner plant, and his broken English made it difficult for him to apply for unemployment benefits. This 911 call reveals the confusion at the scene.
(2) In February 2009, Susana De Jesus and Karen Jackson left work in Pearland, Texas and Susana was forced into a car at gunpoint and driven away. Karen was too frightened to call the police. Two hours later, she called her brother in Canada, who called 911 to report what his sister had seen. Susana's car was found within hours but her body was not found for a month, when it was discovered in an abandoned trailer at an office park. Nicholas-Michael Edward Jean confessed to killing Susana for her 2008 Cadillac.
(3) Ryan Emmons, 31, of Montcalm County, called 911 just after 2 a.m. on April 17 2009 to say that his wife was giving birth in the family bathtub.  Apparently, neither Ryan nor his wife Carri, 27, had any idea that Carri was pregnant, even though they'd had three previous children. Ryan thought his wife had just put on a little extra weight after she quit smoking. Dispatch operator Angie Adams did a great job helping Ryan with the delivery, even though she was only three days out of training.