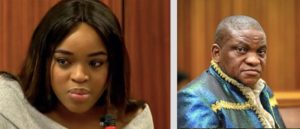 Pastor Timothy Omotoso is currently on trial in the High Court in Port Elizabeth, South Africa (though proceedings are on hold until December). Omotoso is a charismatic Nigerian televangelist with a taste for garish jackets who, until his recent arrest, led the popular Jesus Dominion International congregation. Omotoso, 60, along his two co-defendants, Lusanda Sulani' 36' and Zukiswa Sitho' 28' is facing a string of charges including rape, racketeering and sexual assault.
Testifying here against Omotoso is Cheryl Zondi, 22, who describes how Omotoso began sexually abusing her when she was 14, and a member of his "Grace Galaxy" singing group. Zondi spent a grueling 3 days on the stand facing intensive cross-examination from Omotoso's defense lawyer, Peter Daubermann. She is asked the kinds of intimate and probing questions that would be considered inappropriate if asked in a U.S. courtroom. For example, Daubermann repeatedly asks Zondi whether Omotoso pushed his penis against her vaginal lips, or whether it actually penetrated her vagina- and, if so, by how many centimeters?
Under the circumstances, Miss Zondi is remarkably brave, composed, and articulate.