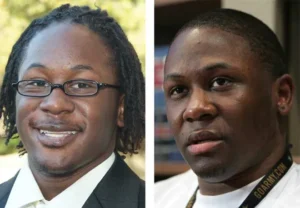 Around 1:30 a.m. on Jan. 18, 2008, according to April Lewis, intruders broke in to her home in Columbus, Ohio twin 17-year-old sons, Dennis and Derris. They held April at gunpoint, ransacked the home, then fatally shot her 17-year-old son Dennis. Prosecutors said that Dennis was killed by his identical twin brother Derris, jealous that his twin had more money than he did, and a car. Both twins were model students and devoted to each other.
In March 2009, of the following year, Derris Lewis went on trial for murder, but after a juror needed to be excused during deliberations and no alternate jurors were available, the judge declared a mistrial.
Then on Aug. 6, 2009, all charges against Lewis were dismissed after what prosecutors claimed was a bloody palm print on the wall of the Lewis home turned out not to exist at all, and Derris Lewis was released after being in custody for 18 months. He was awarded $950,000 compensation by the city of Columbus, Ohio.
This episode contains testimony from Derris's girlfriend, Kristian Holloway, about Derris's personality, and the night in question. She calls him a "goody two-shoes" who dearly loved his brother.