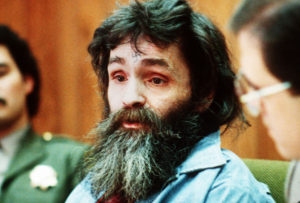 This morning, Charles Manson's existential parole finally ran out.
In 1971, Charles Manson was found guilty of first-degree murder and conspiracy to commit murder for the deaths of seven people – including the actress Sharon Tate – all of which were carried out by members of the group at his instruction. Manson also received first-degree murder convictions for two other deaths. He was originally sentenced to death, but his sentence was commuted to life imprisonment when California invalidated the state's death penalty statute in 1972. His sentence was commuted to life. From Vacaville, he was transferred to California State Prison in Corcoran, where this hearing took place.
Manson was 62 at this 1997 parole hearing, the last one he attended. He stopped showing up because he knew the hearings were a charade, and he would never be released. His paranoid rant is eloquently phrased, but the phrases are disconnected and make sense only to him. Like the sermon of a hypocritical preacher, his rhythms are hypnotic but they have no foundation. "You can't get into the real estate," he says and one point, "because Pasadena is a submarine that's run by Gerry Hoover, who's over in the chapel, who comes from Columbia with the drug cartel saying he got money with two girls and he's taking that pussy…"
The Parole Commissioner, Steve Baker, reads sections of a report from a psychiatrist who interviewed Manson, Dr. Wayne O. Evans, who wrote, "As usual, inmate Manson spoke in metaphor and allegory,and on occasion had to be reminded to be more linear and concrete. He has a clinical history of exercising control, manipulation, and power over his associates and followers, fueled by narcissistic rage for real or imagined slights … he exhibits some signs of schizoaffective personality disorder; once in a while he does revert to magical thinking and flights of fancy, but more in allegory and metaphor than in a delusional system. … He has considerable artistic ability, and should be encouraged to pursue such controlled outlets for this expression."
Manson responds, "Whoever did that did a really good job, didn't he? Yeah, that was a real nice report. I thought the guy had a lot of good things down there, pretty much. I'm a lot of those things. He's making me look a little better than I really am, but whatever it takes is where I have to roll."
R.I.P, Charlie.
Listen to the parole hearing here.
More information about the Manson case here