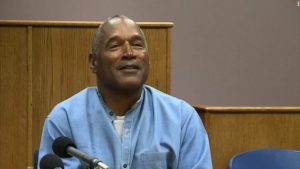 In 2008, former NFL running back O.J. Simpson was convicted on 10 counts of robbery for his role in an armed heist to retrieve some items of his memorabilia that had been put up for sale. In July 2017, after serving nine years of his 33 year sentence, Simpson appeared before the Nevada Parole Board by video link from Lovelock Correctional Institute in Lovelock, Nevada. He was accompanied by his attorney, Malcolm LaVergne, and seemed to be in good spirits.
At 70, Simpson looks healthy and seems to have lost some weight. His voice is deep and resonant. He is not especially remorseful or apologetic–"I've done my time," he repeats– and when asked about the robbery, he goes into unnecessary detail, holding forth for more than 10 minutes. He becomes slightly heated when one of the commissioners presses him on his belief that the memorabilia items were actually his property, but mostly he is relaxed and confident. The Parole Board does confirm that Simpson's 1994 double murder case, of which he was acquitted, would not be considered to be a factor in their decision.
After their interview with Simpson, the parole board interviewed his daughter Arnelle as well as Bruce Fromong, one of the victims in the case, before deciding that Simpson deserved to be paroled. He was released in October 2017.