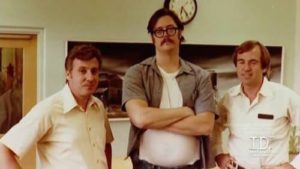 Edward Emil Kemper, after a horribly abusive upbringing, murdered both of his grandparents at age 15, and was sent to the criminally insane unit of the Atascadero State Hospital, where he was held until he was 21. At this point, he convinced psychiatrists he was reformed and well enough to be released.
From May 1972 to April 1973, Kemper kidnapped and killed at least eight more people. Six were female college students hitch-hiking , his abusive mother, and his mother's friend — dismembering and defiling their bodies in ways too horrible to mention here. At 6"9 and 350lbs, Kemper comes across as personable and articulate (he reportedly has an IQ of 145). He was ultimately convicted for eight counts of first-degree murder and sentenced to life imprisonment in the California Medical Facility. As of 2015, Kemper remains among the general population in prison and is considered a model prisoner. He is in charge of scheduling other inmates' appointments with psychiatrists. He is an accomplished craftsman of ceramic cups and a prolific reader of books on tape for the blind.
This audio is taken from an interview with Kemper by FBI profiler John E. Douglas, who described Kemper as "among the brightest prison inmates" he ever interviewed and capable of "rare insight for a violent criminal. In the interview, Kemper is very forthcoming about the nature of his crimes and appears to express regret, though he also blames his mother for her "emasculating" cruelty.