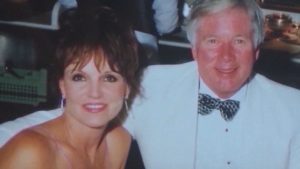 Atlanta attorney Claud "Tex" McIver shot and killed his wife, businesswoman Diane McIver, in September 2017, as they were driving with a friend from their ranch to their condo in Buckhead, Atlanta. The friend, Dani Jo Carter, was at the wheel, Diana McIver in the passenger seat, and Tex in the back. He has maintained the shooting was an accident. Prosecutors claimed he had been arguing with his wife, who had recently changed her will. In terms of income, Tex McIver was apparently worth a lot less than Diane.
This excerpt includes the testimony of family friend and publicity expert Bill Crane. In the immediate aftermath of the shooting, according to Crane Tex McIver allegedly asked him, acting as a family spokesman to retract a statement made to the media on McIver's behalf. Crane told The Atlanta Journal-Constitution in September that Tex pulled out his gun because he was worried about unrest surrounding possible Black Lives Matter protests in the area where they had pulled off the interstate. McIver's attorney would later step away from the claim that the couple was worried about Black Lives Matter, but Crane told McIver that he could not lie on his friend's behalf.
McIver was found guilt of murder, and sentenced to life without parole.