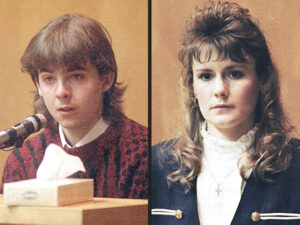 This episode contains testimony from the March 1991 trial of Pamela Smart for conspiracy to commit the murder of her husband, Gregg. This was one of the first trials in the U.S. to allow TV cameras in the courtroom, and Pamela believes this played a significant role in her conviction.
In 1990, at age 22, Pamela began working as a media lab coordinator at a high school in Hampton, New Hampshire. She also joined Project Self-Esteem, a local drug awareness program at the school. Here, she met 15-year-old sophomore Billy Flynn, who was also a volunteer. She also met and became close to her intern, 15-year-old Cecelia Pierce. Here, Cecilia testifies that she noticed that at some point she noticed a change in Pamela and Billy 's relationship. She testifies that Pamela told her she "loved Bill," and that Billy was a virgin before he had sex with Pamela.
Rather than getting a divorce, Pamela allegedly conspired with Billy and three of his friends to kill her 24-year-old husband Greg. She was convicted of conspiracy to commit first degree murder, and was sentenced to life in prison. Billy Flynn and his three friends were released from prison on parole in 2015, but Pamela remains behind bars. This episode contains testimony from Cecilia Pierce and Pamela Smart.