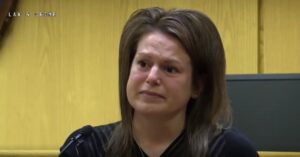 This episode contains the testimony of Mandy Bartelt in a court hearing against Len Kachinsky, best-known as Brandon Dassey's attorney in the Making a Murderer Netflix docuseries. Kachinsky served for 21 years as the municipal judge of Fox Crossing before being accused of a felony stalking charge based on his treatment of Mandy Bartelt, his court manager. Kachinsky was acquitted of the felony stalking charges, but suspended from his position by the Wisconsin Supreme Court in an opinion released on July 9, 2019.  The court found that his behavior towards Mandy violated judicial ethics rules.
Kachinsky had hired Mandy in spring 2016, and the two were on good terms at the beginning of her employment. Occasionally, they talked about their personal lives and even went running together a few times. He then grew closer and closer to her and became decidedly creepy, according to Mandy's testimony. She told Kachinsky that she wanted to keep their relationship work-related, but he continued to send emails inviting her to go running with him and referring to himself as "both the boss and a close friend."
Mandy describes some very unsettling incidents, including: Kachinsky staring at her for 45 minutes "while tapping a pencil and making cat noises," telling her s story about a dog being raped and repeating it a second time, mailing things to her mother, asking her to "hit the reset button" on their relationship, expressing disappointment that she had "unfriended" him on Facebook, inviting her to a "beer or wine summit … to discuss the relationship issue," and lunging at her desk  and asking, "Are you afraid of me now?