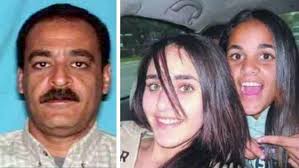 The first call was placed in January 7, 2007 by Dylon Peterson, 25, who tells the dispatcher that he has just killed  two people. Peterson, who is drunk, seems incoherent, has a bizarre affect, and gives no explanation for his act. He was homeless at the time, and had been staying with a friend, Nick Nagle, whom he'd met at a culinary arts class in Vancouver. While Nick and his father were out of town, Dylon stabbed to death Nick's younger brother Mathew, 15, and his mother Sandra Torell, 45. He was sentenced to 57 years for murder. His motive remains unclear.
The second set of calls relate to a crime that took place in Irving, Texas, on  New Year's Day, 2008. Taxi driver Yaser Abdel Said, 58, felt that his daughters Amina and Sarah had dishonored his family by refusing to adhere to the standards of traditional Egyptian cultural behavior. That day, he lured them into his taxi cab on the pretense of taking them out to eat, and fatally shot them in the cab. Before she died, Sarah Said made a brief, desperate call to 911 asking for help. By the time the police located the cab, the sisters were dead, and Yaser Said had disappeared, along with his handgun and all of his savings. He has not been found.
The third pair of calls relate to an attempted kidnapping that took place in Simi Valley, California, in March 2007. A 9-year-old girl was playing alone outside her home when she was grabbed by the hair and forced into a vehicle. Two neighbors saw the incident, describing the kidnapper as a middle-aged Latino man. He drove the girl around the city, trying unsuccessfully to molest her, then dropped her off about a block from her family's apartment. The girl suffered minor scratches and bruises but was not seriously injured. The man was never identified.