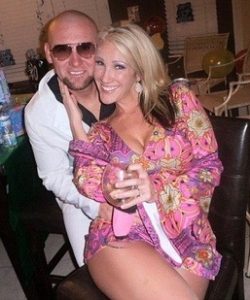 After eight years together, blonde housewife Sabrina Limon and her railroad worker husband Robert decided to make suburban life in San Bernadino County more exciting. They "opened up" their marriage, joining the local swingers' scene, hosting raucous parties taking "adult" vacations. Then, while working at Costco offering free samples to shoppers, Sabrina, 38, met Jonathan Hearn, 27, a firefighter with an impressive vocabulary. Hearn was a devout Christian, but that didn't stop him from pursuing the older woman, and after a torrid affair, the pair fell seriously in love. Believing Robert would never countenance a divorce, Sabrina and Jonathan decided God's purpose was for them to be together, and, as Hearn said on the stand, "Bob had to go."
The couple's first plan involved poisoning Robert with arsenic laced banana pudding. In July 2104, Hearn tested out the poison by feeding a "pretty obnoxious" neighborhood dog a piece of arsenic-spiked salmon. The dog became quiet, but Sabrina lost her nerve. Instead, a month later, Hearn shot Robert at the railroad in Tehachapi, where he worked. Suspicions were raised when Jonathan moved in with the Sabrina shortly thereafter; a police wiretap uncovered the murder. Hearn took a plea deal, testifying against Limon and pleading guilty to manslaughter to avoid a life sentence. He received 25 years and four months in prison. Sabrina Limon was convicted of murder and several other charges, and received a similar sentence.
This episode contains audio from Day 13 of Limon's trial, which took place in September 2017. Sabrina is on the stand. Even on direct examination, she isn't a convincing witness. She's nervous and hesitant; her responses are short and vague, and she has little to offer in her own defense.