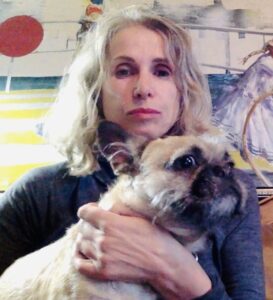 I'm a writer, mostly of non-fiction. My work blends memoir, investigative research, and creative speculation. I'm especially interested in reconsidering and interrogating  the true crime genre. This interest is at the heart of my recent two books, Couple Found Slain (Henry Holt, 2021) and An Unexplained Death (Henry Holt, 2018), and also my forthcoming book, Guilty Creatures (One Signal/Simon & Schuster, 2024).
I have a D.Phil in English Literature from Oxford University; I've been a lecturer at the University of East London, a visiting professor in the department of comparative literature at Indiana University in Bloomington, and director of the humanities program at the Pacifica Graduate Institute, in California. I'm currently a professor in the Department of Humanistic Studies at the Maryland Institute College of Art in downtown Baltimore. Courses I teach regularly include on Edgar Allan Poe, the Uncanny, Animal Magic, and True Crime.
I'm also a psychoanalyst certified through the National Association for the Advancement of Psychoanalysis (NCPsycA), and, although not in practice, I do some freelance and contractual work in prisons and in forensic psychiatric facilities. My articles and forensic case studies have appeared in The American Journal of Psychoanalysis, New Literary History, American Imago, and elsewhere. Currently, my academic research investigates the historical relationship between psychoanalysis and the occult, especially Freud's connections with the Society for Psychical Research, and the discomfort caused by these affiliations when psychoanalysis was struggling to establish itself as a discipline with serious scientific credentials. 
I live in the stately, historical neighborhood of Mount Vernon, in Baltimore, with my partner, the movie critic David Sterritt, and our popular and charismatic mutt, Brutus. You can read a profile of me and my work published in The Baltimore Sun by Mary Carole McCauley. I don't use social media, but if you want to get in touch, feel free to drop me a line.
The best way to contact me is by e-mail, at mikita.brottman@gmail.com
I am represented by Betsy Lerner at Dunow Carlson & Lerner Literary Agency, 27 W 20th St #1107, New York, NY 10011. Mailing address: The Belvedere Hotel Apartments, Suite #501-502, 1. East Chase St. Baltimore 21202. Office: Bunting 412, Department of Humanistic Studies, Maryland Institute College of Art, 1300 Mount Royal Avenue, Baltimore, MD 21217.