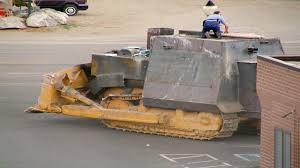 Marvin Heemyer had come to the end of his tether. The welder and muffler repairman had moved to the small town of Granby, Colorado, around 1990. In 1992, he bought 2 acres of land for $42,000 to build a muffler repair shop. He subsequently agreed to sell the land to a man named Cody Docheff, who wanted to build a concrete plant. Around 2001, he became embroiled in an arcane zoning dispute that left him completely unhinged.
Heemyer, 53, began to plan a vigilante attack. He bought a heavy-duty bulldozer, armored it with steel and concrete, and cut a portal in the back through which he mounted an arsenal of guns. On June 4, 2004, following what he believed to be God's will, Marvin drove his "killdozer" into the town of Granby, destroying the homes of his enemies: the town hall, the former mayor's house, the library, and the hardware store. When the police began moving in, Marvin shot himself.
Heemyer may have been deluded, but his intense conviction is difficult to condemn, and it's hard not to admire the violent insanity of his indignant rampage.