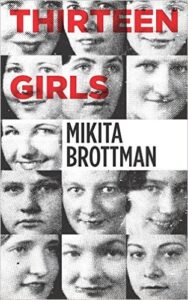 "Mikita Brottman takes terrifying risks but never puts a foot wronThese stories begin with delicate precision and build stunning pace and power. This is fiction that is truer and more penetrating than the savage facts at its core."
~ Katherine Dunn, author of Geek Love
"Thirteen Girls manages the improbable feat of conjuring up the full horror and emotional devastation of serial homicide by focusing exclusively on the aftermath of the crimes and those left to deal with the consequences: family members, police officers, witnesses, survivors. Known for her brilliant, provocative cultural criticism, Mikita Brottman has produced a stunning work of crime fiction–a genuine tour de force"
~Harold Schechter, author of The Serial Killer Files
"Brottman's grimly pragmatic literary stance recalls such earlier artists of the quotidian macabre as Shirley Jackson and Flannery O'Connor: Thirteen Girls is an impressive successor to their stories of American dread".
~John Pistelli, Rain Taxi.
"Mikita Brottman's casebook plumbs the annals of true crime and delivers thirteen bracing stories about the fallout from violent crime. Each fictionalized story is told from a different perspective – a mother, a shrink, a cop, a sister – and collectively reveal the afterlife of murder through the people it affects most deeply. Brottman has terrific literary skill, creating thirteen distinct voices, weaving in unforgettable detail and creating the kind of nuance that lingers in the mind. Ultimately, this is a psychological portrait of murder, an unblinking collection of stories that reveals a cultural obsession with violence and a need for "closure" stacked against the emotional power of personal testimony".
Thirteen Girls is published by Nine Banded Books