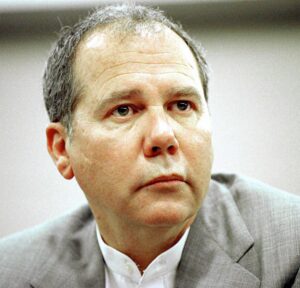 Ted Binion was a wealthy American gambling executive and one of the sons of Vegas casino magnate Benny Binion, owner of the Horseshoe Casino. Ted, a multi-millionaire, loved the high life and ran the Horseshoe for a while, hosting the casino's poker tournaments. But in 1998, Ted, 55, was having problems. Due to his heroin addiction and associations with known criminals, he'd recently lost his gaming license and his ties to the casino.  His wife Doris had moved out, taking the couple's daughter, Bonnie, after learning of Ted's affair with a topless dancer named Sandra Murphy. Just before his death, he discovered that Sandra was cheating on him with a man named Rick Tabish.
On September 17, 1998, Ted was found dead from a combination of Xanax, heroin, and Valium. He'd recently bought 12 pieces of tar heroin from a street drug dealer, and had a Xanax prescription from his next-door neighbor, a doctor. Police believed the scene was staged by Sandra Murphy and Rick Tabish, who wanted Ted's money (after losing his gaming license, Ted had taken all his gold out of the Horseshoe safe and buried it in a 12 foot deep underground vault in Pahrump, Nevada). In 1999, Sandra and Rick were found guilty of murder, but the verdict was overturned, and after a second trial, they were acquitted.
This episode contains testimony from the second trial, in May 2005, featuring a line-up of memorable Las Vegas characters. On the stand in this segment are Jan Jones, Ted's friend and mayor of Las Vegas, followed by Laura Brown, longtime friend and the wife of Ted's attorney.