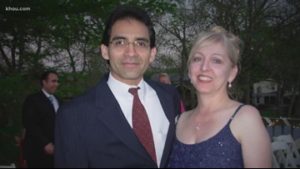 On December 23, 2012, family members arrived at the home of Sandra and Jaime Melgar's home, in Houston, Texas, to celebrate the couple's 32nd wedding anniversary. They expected to find the couple preparing for dinner; instead, they found Jaime, 52, in a bedroom closet, dead from 31 stab wounds, and Sandra, 57, tied up in the bathroom. The police were summoned, and Sandra was interviewed at the Harris County Sheriff's department at 9.45pm the same evening.
Earlier that evening, Sandra, a Jehovah's Witness who owned a medical billing and coding business, tells police officers that she and Jaime, a computer programmer, had taken a long soak together in the Jacuzzi, drinking wine and eating strawberries. Jaime had got out of the tub, left the room, and hadn't come back. When she went to look for him, Sandra ways, she believes she was hit over the head, as she had a seizure and passed out. She believes that she and Jaime were victims of a home invasion.
But as the police point out, nothing was taken from the house, and the couple's dogs did not deter the attacker. During Sandra Melgar's trial, the prosecutor argued that her motive was financial: Jamie had a $250,000 life insurance policy, and Jehovah's Witnesses are not allowed to divorce unless the spouse has committed adultery. The prosecutor made the case that Sandra stabbed her husband to death with a kitchen knife and then tied herself up.
Yet it would be very difficult to murder someone then tie yourself up so tightly that two separate people are unable to release you. In the interview, Sandra Melgar seems exhausted, but doesn't seem to be prevaricating. She maintains eye contact with the detectives, and although she appears shaken, but not melodramatic. There are long pauses; sometimes she even sits in silence for a while.
Sandra Melgar was found guilty of murder, and sentenced to 27 years in prison.