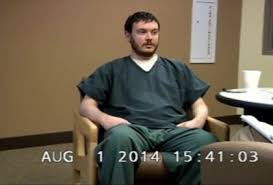 Last month, in response to demands from the press, the psychiatric interviews and evaluations of mass murderer James Holmes were released. In 2012, Holmes walked into a movie theater in Aurora, Colorado and opened fire during a midnight screening of Batman Returns. A dozen people were killed and 58 others wounded.
In this excerpt from 25 hours of interviews, court-appointed psychiatrist Dr. William Reid questions Holmes about his motives and his experiences after his arrest. Holmes is laconic and taciturn, giving nothing away. He doesn't reveal a motive for the crime.  He seems bored by the questions, and repeats that he feels nothing, and has nothing to say. He expresses no regret, admitting that he replays the shooting in his head from time to time–apparently as a way to stave off boredom.
Holmes was a grad student at the time of the shooting. We learn that he expressed hostility towards his campus psychiatrist, Dr. Lynne Fenton, sending her half-burned dollar bills when she raised her fees and mistakenly wrote the wrong last name on his prescription, but he made no threats and had no history of violence.
Holmes pleaded not guilty by reason of insanity, and Dr. Reid's evaluation was intended to help determine whether or not he was competent to stand trial. He was convicted of murder, and sentenced to life in prison without parole.