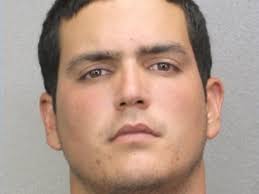 On September 20, 2015, after being called to an apartment in Sunrise, Florida, police found the naked body of Maria Nemeth, 31, was found disemboweled; the apartment had been destroyed, and on the floor were tequila, blood, human tissue and guts. The perpetrator was Maria's boyfriend Fidel Lopez, 24, who said that he and Maria had got drunk on tequila and Maria wanted to have "rough sex" in the closet.
During their intimacy, according to Fidel, Maria went crazy and asked him to penetrate her with various objects. Afterwards, he said, she became sick, started bleeding and went to the bathroom, where she had trouble breathing.
Later, he confessed that during sex, Maria called him by her ex-husband's name. He became enraged, assaulted her with broken bottles, a hair-straightening flat-iron, and finally pulled out her intestines through her vagina.
Lopez admitted to charges of murder and sexual battery in order to avoid the death penalty.