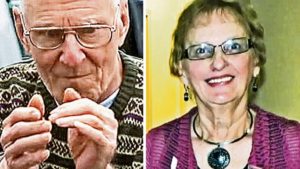 Lise Fredette, 74, was last seen on Nov. 12, 2014 after leaving her shift at a Walmart in Peterborough, Quebec, where she worked as the store's jewellery department manager. Ten days later, when the grandmother-of-two still hadn't been found, her ex-boyfriend, Andrew Watson, 78, was arrested and questioned by Ontario Provincial Police Staff Sgt. Scott Johnston. Fredette broke up with the elderly Scotsman in April 2014 after they had dating on and off for three years. When she left him, he had threatened her with violence and sent her angry letters.
Watson tells Johnston that he's spoken with a lawyer before the interview, who told him not to say anything. But he's annoyed by the way he's been treated by the police, and wants to vent his complaints. "You should see the mess in my house," he tells Johnston. He asks multiple times what will be happening to him next, and asks if he can get a pillow and blanket for his cell. He also asked to be released and he'd just "sit and wait" at home ("You could let me stay at home where at least I'd be comfortable").
Finally, Johnston begins asking questions about Fredette. Watson says he last saw her  the Saturday before she went missing, when they were both at a dance, but he didn't speak to her, he said, as he'd got a second warning from police a few days earlier, telling him to leave Fredette alone. Watson tells Johnston there's nothing going on in his life and he spends 95 per cent of his time in his house alone, "so no matter what crime would be committed in Peterborough, I could not give the police an alibi." When Johnston asks Watson what he thinks happened to Fredette, he says, "I don't know." When asked, for the sake of Fredette's loved ones, to tell them where her body is, he says, "I'll tell you, no one is missing her more than I'm missing her." When asked where he was the night Fredette went missing, he replies, "I'm not supposed to be speaking to you." When asked about blood that was found in his house and his Subaru, he says, "Well, there'll be blood all over my house … because I'm always bleeding." The constant clicking sound you can hear is the sound of Watson attempting to light and re-light his cigarettes, cadged from Johnston, who doesn't smoke.
On April 20, 2017, Watson was convicted of the first-degree murder of Fredette, even though her body had still not been found.  "Mr. Watson, the road is now over for you," said the Judge. "If you have a heart, sir, I would strongly suggest you speak … to put closure to this, so this family can lay this very kind, compassionate woman to her proper rest."
"No thanks," the unrepentant Scotsman replied.