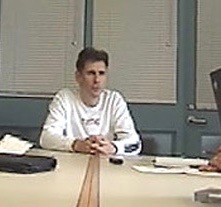 In June 2007, when he was 43, Paul Bernardo was interviewed by the Toronto Police Services Sex Crimes Unit about a number of unsolved crimes, including the disappearance of Elizabeth Bain. The crimes took place during the period in which Bernardo, along with his then-wife Karla Homolka, committed a series of sexual assaults, tortures, and murders in the Canadian city of Scarborough. Homolka signed a plea bargain for a 12 years sentence in exchange for her testimony against Bernardo (here, Bernardo complains that Homolka lied about her role in the killings and she was never polygraphed).
Before the police can get to their questions about the Bain case, they listen to Bernardo's complaints about the way they have handled his case. The detectives are timid, tiptoeing around the subject, always polite, always trying to answer Bernardo's concerns. He's upset that police have said he claimed responsibility for crimes he never committed. Bernardo is agitated and rarely makes eye contact with the detectives. He speaks quickly, in a high-pitched voice, sometimes laughing incredulously, sometimes responding with sarcastic comments.
He rolls his eyes when police speak, grimacing openly when they say his complaints are out of the jurisdiction of the Toronto police service. Often, he shakes his head in disbelief and laughs incredulously. Bernardo has never been charged in the crime and Bain's disappearance remains unsolved.
As usual, the sound quality is not great.
Watch the interview on YouTube here.