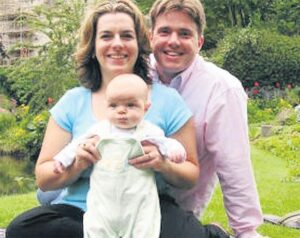 On 22 January 2006, the bodies of 27-year-old Rachel and 9-month-old Lillian Entwistle were found shot to death in the master bedroom of their family home in Hopkinton, Massachusetts. The immediate suspect was Rachel's husband Neil, 28, a British citizen, who bought a one-way ticket to London and left the country hours after the murders. Back home, Neil met up with some of his old college friends, Ben Prior and Dashiel Munding, and told them he'd come home to find his wife and daughter dead. The friends went drinking, went to see a movie, and talked about helping Neil to find a place to live. Entwhistle later told police he had fled to England to be with his family because he was so distraught over the death of his wife and daughter. Police suspected a failed murder-suicide pact.
Neil had told Rachel that he had an income of $10,000 a month from an "offshore account" and ran his own consulting business. In fact, he was broke and had been unemployed for 6 months. He had over $30,000 in credit card debt, had been spending money on escort services, and was under investigation for fraudulent eBay transactions. He was extradited from the U.K. and tried for double murder in June 2008. Found guilty, he was sentenced to life without parole, and is currently in a medium-security prison in Bridgewater, Mass. His parents continue to insist that their son is innocent of the murders, that Rachel was the true killer and that he will eventually be cleared and released from prison.
This episode contains the testimony of Ben Prior and Dashiel Munding about their time with Neil in London after the murders.