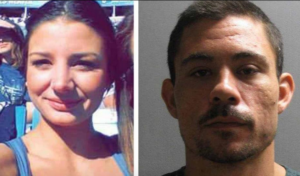 On the evening of August 2, 2017, waitress Savannah Gold, 21, failed to show up for her shift at the Bonefish Grill in Jacksonville, Florida. Her unlocked car with a flat tire was found in the restaurant parking lot, her purse untouched inside. Her family received text messages from her phone, saying she had met someone and was running away with him. But the texts sounded uncharacteristic of Savannah, and police began to look closely at chef Lee Rodarte, 28, who had unexplained cuts on his body.
When questioned, Rodarte admitted that he had a sexual relationship with Savannah, though he broke it off because she was using drugs heavily, and because his girlfriend discovered the affair. When police pulled the security surveillance video from the parking lot of the shopping center in which the Bonefish Grill is located, they saw an apparent struggle between Rodarte and Gold inside his car the night she disappeared. On the video, Rodarte's car was seen shaking, and the rear door opening and closing. After a few minutes, Rodarte walked over to Savannah's car, took an object out of it and put it in his. He then returned to her car and punctured the front left tire of her vehicle. He returned to his vehicle and after a few minutes, he drove away, with Savannah still in the car.
After the police finished interrogating Rodarte, who denied any knowledge of Savannah's whereabouts, they left the room. Once alone, Rodarte was caught on tape sobbing and saying "I'm sorry, Savannah." Later, he confessed to the murder, and told investigators that he had thrown the waitress's body in a nearby lake. Despite his confession, Lee Rodarte has pleaded not guilty. His trial will begin in February 2019.