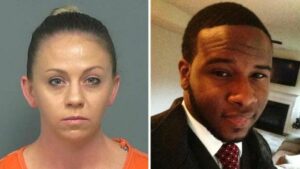 Amber Guyger, 31, was charged with the murder of 26-year-old Botham Jean, a Dallas accountant and native of St. Lucia. On the stand, she breaks down in tears several times as she gives her version of what happened on Sept. 6, 2018.
Her attorneys argue that Guyger fired in self-defense after mistaking Jean for a burglar and contend the shooting was a tragic mistake. They say Guyger returned home exhausted after a long shift, got off the elevator on the wrong floor of her apartment complex, and went to the wrong apartment. The door was open and the apartment was dark. When the shadowy person inside began approaching her at a "fast-paced" walk, she said she called out, "Let me see your hands! Let me see your hands!" then fired her gun.
Witness Joshua Brown, 28, said he watched a sobbing Guyger pace back and forth in front of Jean's door while on the phone, telling the person on the other end of the call that she had mistaken the apartment for her own. Guyger was found guilty and sentenced to 10 years in prison. Joshua Brown was found shot to death just days after giving testimony in the case.