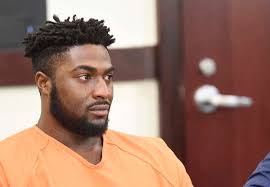 On August 9, 2013, four Vanderbilt University football players–Brandon Vandenburg, Cory Batey, Brandon Banks and Jaborian McKenzie–were caught on video carrying an unconscious girl to Vandenberg's dorm room. Here, they took it in turns to rape and abuse her, as testified by images captured on cellphone cameras.
The prosecution pointed out that the girl, 21, a friend of Brandon Vandenburg, had been drinking heavily; she had consensual sex with Vandenberg the next morning, and she didn't know she'd been raped. When her roommates pointed out the vomit in her hair and missing shoes, she was initially reluctant to get a medical exam, and when she learned she'd been raped, she didn't want to believe her date had been involved.
Th football players were dismissed from football team on June 29, 2013 and banned from campus during the six-week investigation that followed. In this excerpt from the trial of Corey Batey, 24, who–according to prosecutors–urinated on the girl, made a racial slur at the end of the attack, and referred to her as a "bitch" in e-mails, Batey explains that his initial story was a fabrication devised by the team's coach in order to be sure the players all had their story straight. Batey, who claims he blacked out and has no memory of the incident, received the minimum 15-year sentence, and has requested a new trial.