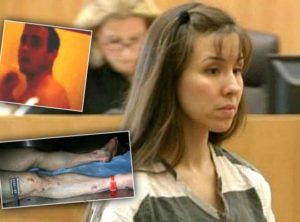 These are recordings of phone calls made between Jodi Arias and Arizona Police Detective Esteban Flores on June 10 and June 25, 2008. When handsome young Mormon salesman Travis Alexander was found brutally murdered in his home in Mesa, Arizona on June 9,, his friends all told Flores he should investigate Travis's "stalker" ex-girlfriend, Jodi Arias. "I talked to a number of people about you," Flores tells Jodi, "and I hate to say this, I don't mean to make you feel bad, but they didn't have the best things to say about you."
Arias called to speak with Detective Flores the night Alexander's body was discovered, but he didn't return her call until the following day, after Jodi had called him again and left another message. She tells Flores that she wants to offer him her assistance, presenting herself as a devoted and heartbroken ex-girlfriend. In fact, she tells Flores that she was the one who broke up with Travis due to his infidelity, and they were both trying to "move on." Flores said he suspected Arias right from the start, and it's pretty clear why. In these conversations, her show of grief and concern give way very quickly to oddly flirtatious reminiscences, boasting about Travis's "soft, Egyptian cotton linen" sheets and his "Intelligel bed," asking Flores for discretion while at the same time spilling her soul. Her verbosity makes it easy for Flores to back her into a corner and confront her about when and from where she last accessed  Travis's e-mail and social media accounts.
On April 13, 2015, Jodi Arias was sentenced to life imprisonment without the possibility of parole.