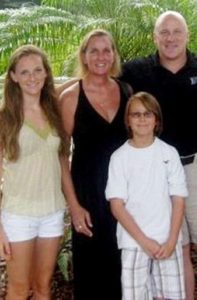 Colonel Parker Schenecker met in his wife Julie in Germany during the 1980s, where she was working as a Russian linguist. They had two children, and moved to Florida, where Julie became depressed and was diagnosed with bipolar disorder.
On January 27, 2011, when Parker Schenecker was overseas, daughter Calyx, 16, and son Beau, 13, were found dead by police at their home in Tampa. Julie was found drugged and semi-conscious after a suicide attempt. She was arrested on suspicion of their murder after an alleged confession. In 2014, 53-year-old Julie Schenecker went on trial for the murder of her two children. She pled not guilty by reason of insanity to two counts of first-degree murder.
On the third day of the trial, jurors were played to an audio recording of Julie Schenecker's interview with Tampa police in which she describes how she shot her children to death.  For the first time they were able to hear Ms. Schenecker, in her own words, describe how she killed her two children. The detective interviewing her is thoughtful and compassionate; and it's very clear that Ms. Schenecker is seriously disturbed, and still under the influence of alcohol and drugs. She admits that she has been planning to kill her children for many years, but she also asks if they're coming to the police station. She was found guilty of first-degree murder and was sentenced to two concurrent life terms in prison on May 15, 2014.
Find out more about the case here.