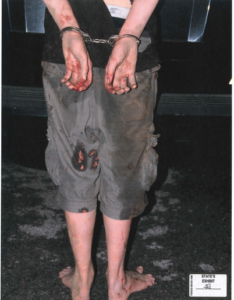 This episode contains an interview conducted by Detective Eric Bentz with Michael Bever, 16, who, along with his older brother Robert, killed five members of their family on the night of July 22–23, 2015. Michael tells detective Bentz that the familicide was Robert's idea, since he was "against society" and "wanted to kill as many people as possible" so the brothers could get their own Wikipedia page. Robert had been plotting the killings for months, according to Michael, and wanted to strike that night because he was expecting the delivery of a combined 2,250 rounds of ammunition the following day, and he didn't his parents to know about it.
Using knives, the two home-schooled brothers killed their father, David, 52, and mother April, 44 ("mom was okay but dad was a bit too much," says Michael), younger brothers Daniel, 12, and Christopher, 7, and little sister Victoria, 5. Another sister, Crystal, 13, was critically injured but survived, and baby Autumn Bever, 2, was unhurt. After killing their family, the Bever boys were planning to go on a cross-country killing spree to become the most notorious mass murderers in history. However, aware that Daniel had managed to call 911 before his death, the two fled to a wooded area behind their house, where they ultimately were arrested after being discovered by a police dog.
Detective Bentz is remarkably calm and even-keeled in the face of Michael's confessions. He holds back all emotion as he tries to get Michael to feel at ease. The boy, who has a slight speech impediment and seems impressed by the detective's authority, at first claims he didn't kill anyone, but eventually admits he was supposed to kill his dad, Victoria, and Crystal, and confesses to stabbing his little brother and his mother. Of Robert, he says, "I did want to do it with him because he was going to do it no matter what." Their plan was very specific, says Michael, but everything went wrong ("I didn't like it the minute it started").
Robert Bever and Michael Bever were both charged with five counts of first-degree murder and one count of assault and battery with intent to kill. Both were tried as adults, and both received life without parole.