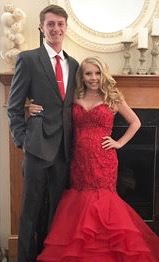 When Brooke Skylar Richardson, 18, discovered she was pregnant, she was afraid to tell either her parents, who would have been shocked and disappointed, or her boyfriend Brandon Saylor,
Richardson is charged with aggravated murder, involuntary manslaughter, endangering children, tampering with evidence and abuse of a corpse for the incident that occurred in May 2017.
Brandon Saylor, Richardson's boyfriend in the winter and spring of 2017. The 21-year-old said he did not know Richardson was pregnant when they went to prom in May 2017. He only learned about it about on television when the remains were recovered.
In the hours after the birth, well before he or anyone knew there was a birth, she texted Saylor: "Ill tell you all about it later but last night was like the worst ever and I didn't go to sleep till 5:30 but I feel soooooo much better this morning I'm happy."
The prosecution also showed a series of text messages between Richardson and her mother just before and after the baby was born, talking about getting birth control and weight loss. The jury was again shown a photo of Richardson working out that the gym on the night after giving birth in which she was tracking her weight loss.
Skylar was found not guilty of aggravated murder and involuntary manslaughter, but will spend three years on probation for "gross abuse of a corpse." This episode contains excerpts from the trial: Brandon Saylor on direct, and Detective Christopher Wong (cellphone expert) on direct, reading texts between Skylar and her mom, Kim Richardson.