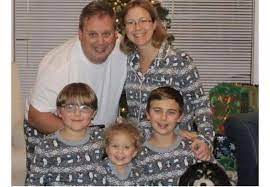 In December 2019, in Celebration, Florida, police performed a wellness check on the home of the Todt family, who hadn't been seen for some time. Anthony Todt, 44, was discovered unkempt and shaking. Wife Megan, 42, was found dead, along with their  three children: Alek, 13; Tyler, 11, and Zoe, 4. They  had been stabbed in the stomachs and smothered to death, and lay decomposing with crucifixes gripped in their hands. Also dead was the family dog, Breezy.
Anthony claimed that Megan had recently joined an online cult and the family had decided to kill themselves to avoid the apocalypse so they could be together in heaven. He said the murders were committed by Megan, and after her suicide, he had attempted to join her by attempting to strangle himself and overdosing on Benadryl but unfortunately didn't take enough to die.
Todt was a physical therapist who'd recently been served a federal warrant for health care fraud charges. Police concluded his life was falling apart and he faked the "family cult suicide" to draw attention away from his financial and legal problems. In 2022, he was convicted of the murders and sentenced to life imprisonment without the possibility of parole. This episode contains Todt testifying at his trial, claiming that Megan was responsible for the children's deaths.