Brot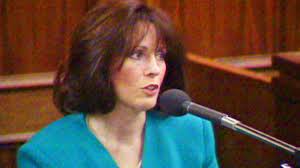 hers Erik and Lyle Menéndez  were convicted in 1996 for the murders of their parents, José and Mary Louise ("Kitty") Menéndez (see episode 169 for testimony from Lyle's girlfriends).
The trial had many subplots. One of the most juicy involved the brothers' therapist, Dr. Jerome Oziel, and his mistress / patient, Judalon Smyth. Erik Menéndez, torn apart by guilt after the murders, apparently confessed to Oziel, who then told his mistress, Judalon Smyth, who went to the cops. The affair was a stormy one (Judalon said she once made Oziel an IOU for 500 sex acts). Judalon said Oziel was obsessed with her; Oziel said it was the other way around. In fact, the affair seems to have been a folie a deux. This episode contains testimony from both parties.
Erik and Lyle Menéndez are currently both serving sentences of life without parole in the California Department of Corrections. Jerome Oziel lives in Portland, Oregon where he offers relationship and marriage seminars. Judalon Smyth is an EMT technician in Beverly Hills, California.