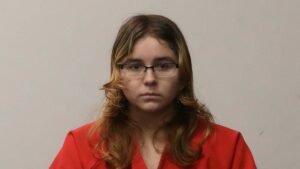 Nicole Nachtman was, by all accounts, a disappointment to her mother, Myriam, and stepfather Bob. The defense argued that Nicole's mother had inflicted years of psychological, verbal and physical abuse on her daughter, including forcing her to get liposuction and Lasik surgery. Nicole was emotionally stunted and lived in fear, taking refuge in online games and animated cartoons. Her mother punished Nicole for the slightest infraction, so Nicole was naturally terrified when she realized she was too late to get housing at FSU when returning to college for her second year.
Nicole apparently returned home in August 2015 when Myriam, 56, was out of town on a work-related trip and shot her 67-year-old stepfather in the back of the head. She then dragged his body into a bedroom and locked the door. She cleaned up her stepfather's blood, but left droplets and smudges throughout the house, along with her own thumbprint stamped in blood on a wall. When Myriam returned home, Nicole was lying in wait, and shot her mother three times. A next-door neighbor testified he heard the gunshots and a scream, then saw a shadowy figure dashing between their homes.
Nicole then returned to FSU (she had, as she later found out, been given overflow housing) and asked her roommates to say she'd been there for two days. She was convicted of two counts of first-degree murder, rejecting defense arguments that she was insane at the time of the crimes, and sentenced to life in prison without the possibility of parole. This episode contains the testimony of Nicole's half-brother, Joseph Carey; neighbor Alaina Roe; her father Ronald Nachtman, and her only friend, Laura Hessemer.