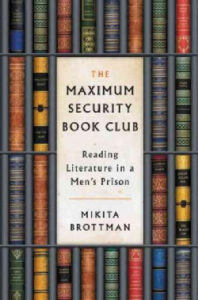 "The degree to which literature both can be and can't be a bridge between sensibilities is so carefully examined in this swiftly and sensitively written book. I'm left thinking we should all strive to build book clubs with people whose days and life histories are quite different from our own, rather than discussing books mainly with our friends. Until then, there's Mikita Brottman's wonderfully witty and deeply honest report from just that sort of space."
~ Sheila Heti, author of How Should a Person Be?
"Unlike the typical book-about-reading-books, The Maximum Security Book Club steers clear of facile sentimentality. There is no transformation or redemption in Brottman's story, only honest moments of encounter—between the author and her students, between the students and one another, between each man and himself—made possible by the act of reading literature. Brotman gives us a candid, unillusioned account of her work behind bars. A brave and admirable book about a brave and admirable project."
~ William Deresiewicz, author of Excellent Sheep: The Miseducation of the American Elite
"One of the best books about teaching I've ever read, The Maximum Security Book Club is not only lively and engaging from the first page to the last, but dazzles by virtue of its honesty, sympathy and humanity."
~ Phillip Lopate, author of To Show and To Tell and Portrait Inside my Head
"Take nine convicted felons confined for the long haul at a maximum security men's prison. Add a well-meaning literary scholar armed only with cheap reprints of challenging books by writers from Conrad to Kafka. The resulting dynamic is the subject of Mikita Brottman's fascinating and unvarnished book about criminals as rough-hewn literary critics. I tore through The Maximum Security Book Club, curious to read the answers to the questions Brottman asks herself: Can literature illuminate, and perhaps even change, the lives of those warehoused over the long haul at America's penal institutions? Can shared reactions to classic books empower those whom society has rendered powerless? What is the value of literature and language, and what are its limitations?"
~ Wally Lamb, author of She's Come Undone and I Know This Much is True
"The prisoners are real. The fiction classics they read and discuss are real. Honest, engaging, surprising, and often unsettling, The Maximum Security Book Club beautifully captures the banal insanity of prison life in America while exploring the power of literature to transform, reform, and illuminate."
~Kim Wozencraft, author of Rush and The Devil's Backbone
On a sabbatical from teaching literature to undergraduates, and wanting to educate a different kind of student, Mikita Brottman starts a book club with a group of convicts from the Jessup Correctional Institution in Maryland. She assigns them ten dark, challenging classics—including Conrad's Heart of Darkness, Shakespeare's Macbeth, Stevenson's Dr. Jekyll and Mr. Hyde, Poe's 'The Black Cat,' and Nabokov's Lolita—books that don't flinch from evoking the isolation of the human struggle, the pain of conflict, and the cost of transgression. Although Brottman is already familiar with these works, the convicts open them up in completely new ways. Their discussions may "only" be about literature, but for the prisoners, everything is at stake.
While Mikita Brottman does not gloss over the serious crimes for which these prisoners have been incarcerated, she introduces readers to the deeply flawed yet surprisingly compelling flesh-and-blood men she got to know, from the enthusiastic Steven to the wiry tattoo-covered Day-Day; from Donald, a laconic cynic, to the rambunctious and easy-going Turk. These men's voices—by turns dismal, hilarious, heartbreaking, and nuanced—leap off the page.
Gradually, the inmates open up about their lives and families, their disastrous choices, their guilt and loss. Brottman also discovers that life in prison, while monotonous, is never without incident. The book club members struggle with their assigned reading through solitary confinement; on lockdown; in between factory shifts; in the hospital; and in the middle of the chaos of blasting televisions, incessant chatter and the constant banging of metal doors.
Though The Maximum Security Book Club never loses sight of the moral issues raised by the selected reading, it refuses to back away from the unexpected insights offered by the company of these complex, difficult men. A compelling, thoughtful analysis of literature—and prison life—like nothing you've ever read before.