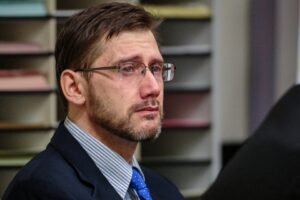 This episode contains the testimony of Jeffrey Willis in October 2017 during his trial for the murder of Rebekah Bletsch, who was shot and killed on June 29, 2014 as she was jogging in rural Muskegon County, Michigan. He is also questions about the disappearance of Jessica Heeringa, who vanished from an Exxon gas station where she was working the late shift in Norton Shores, Michigan, on April 26, 2013. Willis denies knowing either Rebecca Bletsch or Jessica Heeringa. Nonetheless, he was found guilty of the murder of Rebecca Bletsch, and received life without parole.
After Willis's conviction, his cousin, Kevin Blum, pleaded guilty to lying to detectives during the Rebecca Bletsch investigation. He also admitted to having been an accessory after the fact by helping Willis dispose of Jessica Heeringa's body; for this, he was sentenced on January 9, 2018 to time served plus five years' probation. Willis was found guilty of Jessica's murder in May, 2018, and sentenced to another life term.  He was also charged with the attempted kidnapping of a 16-year-old girl in 2016, as well as making child pornography by filming his neighbor's unsuspecting 14-year-old daughters.
Willis comes out with all kinds of excuses for his behavior, but he is clearly lying–and doing a very bad job. He comes across as deceptive, narcissistic, self-involved and unsympathetic. His defense attorney tries to make him look like an ordinary guy with a difficult marriage and an interest in porn, but it's too much of a stretch, and no-one found it credible.