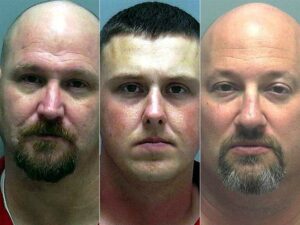 This episode contains audio of Curtis Wayne Wright, Jr. testifying at the trial of co-conspirator Jimmy Ray Rogers about his part in the murder of Dr. Teresa Sievers at her home in Bonita Springs, Florida in June 2015. Dr. Sievers, 46, was a popular and charismatic holistic health care doctor, married with two children. She was beaten to death in her kitchen with a hammer.
The plot to murder Dr. Sievers was hatched at the Missouri wedding of Wright, 51. Wright was a boyhood friend (and lookalike) of Teresa's husband, Mark Sievers, also 51, and a longtime felon. On the way to his own wedding, Curtis left some hot dogs in a freezer and returned to pick them up. His buddy Mark Sievers went with him, and during the trip, Mark told Curtis that his wife was going to leave him and take their two daughters, and he wanted to have her killed. Wright promised he would take care of it for a share of the life insurance payment. To assist him in the murder, Wright called on his old friend Jimmy "the Hammer" Rogers, but the two hitmen made a mess of things and were soon tracked by the FBI.
Wright pleaded guilty to second-degree murder, and struck a deal for 25 years in prison. In exchange, he agreed to tell jurors about what happened to the victim. Wright says he approached Dr. Sievers from behind, intending to choke her, but accidentally kicked a dog bowl, creating a sound like a gong. At this point he hit her with a hammer, and Sievers fought back. Then Rodgers, who also had a hammer, came out of nowhere, and went berserk, hitting her until she fell down dead on the floor. Wright took a deal for 25 years. Rogers was convicted of second degree murder and is awaiting sentencing. Mark Sievers has yet to be tried.