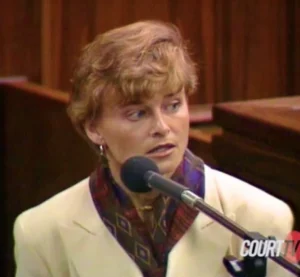 Lyle and Erik Menéndez were convicted in 1996 for the murders of their parents, José and Mary Louise ("Kitty") Menéndez. They claimed the murders were self-defense after years of emotional, physical and sexual abuse.
Traci Baker, a witness for the defense, was Lyle Menéndez's ex-girlfriend. She testified to witnessing Kitty's bizarre and aggressive behavior.
Jamie Pisarcik, a witness for the prosecution, was also a girlfriend of Lyle's. She remained supportive after the murders, but when Lyle confessed that he and Erik did kill their parents because their parents had abused them, Jamie disbelieved him and withdrew her support.
It took 7 years and 3 trials to find Erik and Lyle guilty. They're currently both serving sentences of life without parole in the California Department of Corrections.