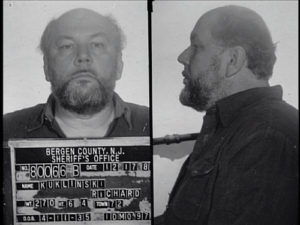 This episode contains excerpts from an interview conducted by the forensic psychiatrist Park Dietz with "The Iceman," Richard Kuklinski (1935–2006) in Trenton Maximum Security State Prison, New Jersey, in 2002. Kuklinski was a mafia contract killer who was convicted for five murders, although to Dietz, he claims to have been responsible for the deaths of between 100 and 250 people.  Kuklinski was given the nickname "Iceman" for his method of freezing a victim after the murder in order to mask the time of death.
At 6'5″ and 270 pounds, the Iceman had a fearsome reputation among the mafia, but his wife and children in the suburb of Dumont, New Jersey apparently believed he was a successful businessman. In fact, by the early 1980s, Kuklinski was involved in narcotics, pornography, arms dealing, money laundering, and hijacking; he also worked as a contract killer for Newark's DeCavalcante crime family. By the mid-1980s, he began to make mistakes and get sloppy about disposing of his victims. Kuklinski was arrested in 1986 and sentenced to life imprisonment in 1988. After his conviction, Kuklinski took part in a number of interviews during which he confessed to many violent and disturbing crimes. Though some have expressed skepticism about the extent of Kuklinski's alleged murders, police believe he killed at least several dozen people both at the behest of organized crime bosses and on his own initiative.
Watch the documentary on Youtube here.