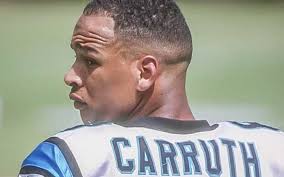 In 1999, Carolina Panthers wide receiver Rae Carruth, 26, had a problem. A casual girlfriend, stripper Cherica Adams, 24, told him she was pregnant with his child. Rae was already paying a significant amount of child support to a woman in California, and had no desire for another baby. Prosecutors claimed Carruth conspired with three men to gun down Cherica as she was driving home from a movie. Before she died, Cherica was given a C-section and delivered Carruth's son, Chancellor, who was born with permanent brain damage and cerebral palsy. The defense, led by David Rudolf (defense attorney in the Michael Peterson 'Staircase' trial), argues hit man Van Brett Watkins killed Cherica in a fit of anger following a prior argument with Rae.
In 2002, Carruth was found guilty of conspiracy to commit first degree murder. He served 18 years of an 18-to-24-year sentence and was released from prison on October 22, 2018.
This episode contains testimony from Carruth's cousin, Tiffany Adams, followed by confessed hitman Van Brett Watkins.