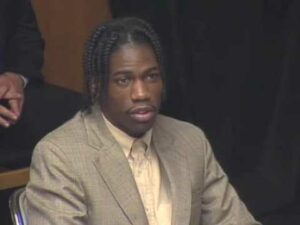 On Saturday, January 6, 2007, in Knoxville, Tennessee, Channon Christian, 21, and Christopher Newsom, 23, went out on a date for dinner a restaurant in Knoxville, Tennessee. On the way home, when they pulled off the road to kiss, they were hijacked, bound and blindfolded by three males, and driven to a rundown rental house.
When the couple didn't arrive home, the police were called and a search began. On Monday, Channon's car was found two blocks away from the rental house. On Tuesday January 9, Christopher Newsom's body was found dumped by a railroad track. He had been raped, short, and his body partially burned. When police entered the rental house, they found Channon Christian's body in a trash can in the kitchen. She'd been raped, beaten, choked, and left to suffocate.
The perpetrators were Eric D. Boyd, Letalvis D. Cobbins, his brother Lemaricus Davidson, George Thomas, and Vanessa Coleman. All had multiple prior felony convictions, and none of them cooperated with prosecutors, with each claiming their own innocence. After six years of legal wrangling, trial, Davidson was convicted and sentenced to death by lethal injection. Cobbins was convicted and sentenced to life without parole. Thomas got 35 years, and Eric Boyd got 18 years. Vanessa Coleman, Cobbins's girlfriend, got a sentence of 35 years for facilitating the crimes.
Since the victims were white and middle class, and the defendants poor and black, some accused the national media of reverse discrimination by failing to give the case the same attention paid to white-on-black hate crimes. However, no evidence demonstrated the race of the victims was a motivation in their killing.