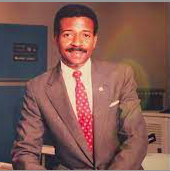 On August 8, 1996, playboy bachelor Lance Herndon, 41, was found bludgeoned to death in his bed at his home in Roswell, a suburb of Atlanta, Georgia. Police claim the killer climbed onto his naked body and straddled him, then beat him in the head and face. The murder weapon was never found.
The investigation into Herndon's death uncovered a complicated web of relationships. He was still closely involved with his third ex-wife, Jeannine Price, the beneficiary of his insurance policy. His current girlfriend, the glamorous Kathi Collins, was unaware that Lance was also involved on/off romantic relationships with various other pretty, light-skinned black women, including his assistant Tallana Carraway as well as a nursing student named Dionne Baugh. Dionne, who was married to a Jamaican airline pilot, told police that Herndon was obsessively fastidious and liked anal sex; she suggested he might also have had a secret gay life. In addition, Herdon's financial dealings were complicated and ethically doubtful. His company was in serious financial difficulty, and he was almost broke.
Investigators concluded that Dionne beat Lance to death in a moment of jealous rage while the couple were having sex. She was sentenced to life in prison in 2001, but her sentence was later reversed on a technicality. In 2004, at her second trial, she pled guilty to voluntary manslaughter and was sentenced to 10 years in prison. She was released in July 2011.
This episode includes testimony from Lance's mother, Jackie Herndon, and his ex-wife, Jeannine Herndon.