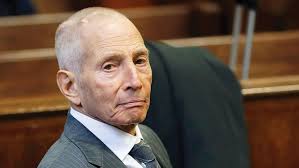 On March 14, 2015 (the day after the final installment of the six-part documentary series The Jinx aired on HBO), Robert Durst, 73, was arrested by the FBI in connection with the murder of his former girlfriend, the writer Susan Berman. He was staying in a hotel in New Orleans and found to be in possession of a false Texas ID, stacks of $100 bills, bags of marijuana, a .38-caliber revolver, a map folded to show Louisiana and Cuba, a latex mask, and a wig. In his interview with Los Angeles County Deputy District Attorney John Lewin, Durst confesses that he took meth during his interviews on The Jinx, and says he has smoked pot almost every day of his life.
Lewin asks Durst about the disappearance of his wife Kathy Durst in New York in 1982, his acquittal on murder charges in the 2001 dismemberment killing of a neighbor Galveston, Texas, and the killing of Susan Berman in Los Angeles as she was about to speak with prosecutors investigating Kathy's death.
During the interview, Lewin talks a lot. He gushes over Durst, telling him he's brilliant and the most interesting suspect he's ever investigated. He coaxes and flatters, quoting Durst's lines from The Jinx, even doing impressions of him. It's sometimes difficult to tell whether his flattery and enthusiasm is an attempt to get Durst to trust him, or whether it's genuine. Either way, it gets him nowhere. Durst is cordial and receptive, but never lowers his guard.