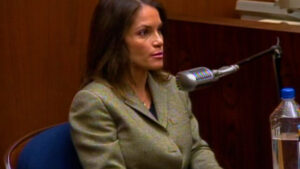 Melissa Pileggi Grosvenor said she met Phil Spector in New York in 1991 when she was a waitress, found him "very charming, quick-witted," and was in a platonic relationship with him for a year and a half. She testified that after a dinner in Beverly Hills she went back to his house, but when she told Spector around 2 a.m. that she was tired and wanted to go, he left the room and returned with a gun, which he holstered and "started walking back and forth, cursing and talking crazy." She said after she returned to New York he started asking her out. She said when she declined he left such messages as, "I've got machine guns and I know where you live."
May 10, 2007, Melissa Grosvenor testified at the trial of Phil Spector in Los Angeles. Later in the trial, Melissa's estranged sister's Angela Pileggi-Silverstein takes to stand to describe how her sister once stole a plaque in Georgia and boasted about being in Court TV. However, this did nothing to refute Melissa's testimony. Many other women testified that Spector also pulled a gun and threatened them when drunk.
Two years after testifying in the Spector trial, Angela Pileggi died from a drug overdose on a Caribbean cruise in December 2009, aged 45. On April 13 of that year, the jury found Phil Spector guilty of murdering actress Lana Clarkson. On May 29, 2009, he was sentenced to nineteen years to life in state prison. He died in prison in 2021.