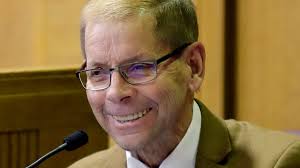 This episode presents the December 2018 defense case in the trial of Wisconsin lawyer and former Fox Crossing municipal judge Len Kachinsky, who was accused of stalking his court manager Mandy Bartel, as featured in episode 140. Kachinsky was one of the  lawyers defending Brendan Dassey in the Making a Murderer series on Netflix. The stalking charge was punishable by up to 5 years in prison.
His clerk, Mandy Bartelt, said she started feeling uncomfortable with Kachinsky's behavior. She said he harassed her and retaliated against her when she tried to take their relationship from a friendship to one that was solely professional. In his defense, Kachinsky explains that the two developed a friendship when she started her job and he was hospitalized for a serious illness. The judge says he was confused when Mandy went abruptly from socializing with him and exchanging playful messages to wanting significantly limited contact with Kachinsky, whose quirky behavior was usually considered endearing, according to his attorney.
 Kachinsky said he felt the situation was essentially a personality conflict that the prosecution tried to make into a sexual harassment case. Kachinsky was acquitted of the stalking charges. However, the Wisconsin Supreme Court suspended him from the bench after he was booked into the Winnebago County Jail before formal charges were filed, and a court order limited his communications with Bartelt to business matters. However, in September 2019 he was convicted of violating the order, and has not been reinstated as a judge.