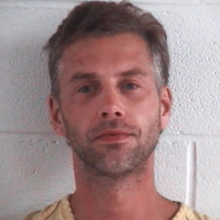 On September 13 2016, a 911 dispatch operator in Ashland, Ohio received a call from a woman who had being held captive and sexually assaulted for three days by a male acquaintance. The woman, Laurie Scihlik, 38, whispered that Shawn Grate, 40, had tied her up and would not let her leave the room. She is still partially tied up, and calling on Grate's phone. The recording is punctuated by periods of silence, as Scihlik is terrified of waking up her abductor.
A little over a year later, on the fourth day of testimony in Grate's capital murder trial, Scihlik testified about her ordeal for almost two hours, most of it on direct examination from Ashland County Prosecutor Chris Tunnell. Dressed in a blue blouse and dark, loose-fitting pants, she never looked in the direction of the defendant, who sat impassively at the defense table. During her testimony,  Tunnell stood only a few feet from Scihlik as if to reassure her. Both here and in the 911 call, Scihlik maintains her composure admirably.
Scihlik said she was reading Bible passages while Grate went to the kitchen of his house at 363 Covert Court. She said his demeanor changed when he returned."He started pulling the Bible out of my hand," she said. "I looked up at him, and that's when he said, 'You're not going anywhere.'"
She says she looked on Grate as an "older brother," believed him to be "kind," and thought he shared her interest in reading the Bible. Grate claims he did not plan to kill Scihlik, and that they were going to get married. He pleaded insanity, a grand jury indicted him on two counts of aggravated murder in the deaths of two women, and he is believed to be responsible for the deaths of at least three others.